Lindsay Anne McLee was born July 2nd, 1990 in Saint Louis, Missouri. Her parents are Jenna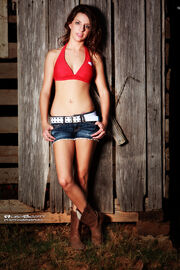 Leeann Longston-Good and Richard Allen McLee. She is currently 23 years old. She is currently dating WWE Superstar Randy Orton.
Richard McLee (Dad)
Jenna Longston-Good (Mom)
Kaitlin McLee (Sister)
Jonathan Good (Step-Brother)
Charles Good (Step-Dad)
Wrestling Career
Edit
Lindsay was one of the divas in the first divas title match. Brittany Lee was the winner, but Lindsay didn't get pinned.
Lindsay got her first ever win January 13,2014 over Courtney Saunders (Courtney). That was the same night she and Melissa Cena debuted as the first ATWL stable, The Real Divas. Melissa also got her first win over Cynthia Saunders (Candice) that same night.
Personal Life
Edit
Lindsay went to high school at Hazelwood Central High School, the same high school that her boyfriend, Randy Orton, went to. She has been close friends with Mackenzie Smith and Alexis Borders since they were toddlers at day care. Her parents divorced when she was thirteen. She lived with her dad until she was nineteen. Lindsay went to college at Penn State along with Alexis.
Lindsay is the oldest of the two McLee daughters by two years. She and her younger sister, Kaitlin, share a close bond. Since she moved out of her dad's house when she was nineteen, she hasn't seen her father.
There is a reason she hasn't seen her dad since then. She left because of issues between her and her soon-to-be stepmom, Adrien Donavan.